We gaan weer spelen!
Hou deze data vrij: 24 mei 330 Live en 14 juni Studio Loos
6 tags
Recensie: Trapper op State-X New Forms 2012
VPRO's 3voor12's recensie van ons optreden als Stargazer (Trapper + Slyder) op vrijdag 14 december in het Paardcafé: "
Het Paardcafé is de hele avond goed gevuld. Er staan drie Haagse acts op het programma die prima binnen het concept van het festival passen. Het Paardcafé wordt vooral gebruikt voor de meer sfeervolle en ingetogen acts: een leuke afwisseling als je deze plek vooral kent...
1 tag
4 tags
4 tags
Watch
UIt de oude doos: Trapper live @ State-X New Forms 2011 in Warenhuis de Hoop op 12 december 2011. Video door Lars, onze geluidsman.
2 tags
Recensie: Trapper op de Haagse Pop Week.
VPRO's 3voor12's recesnie van ons optreden op vrijdag 19 oktober in Café de Vinger in het kader van de Haagse Pop Week: "De Vinger staat deze vrijdagavond in het teken van het experiment. Het gezelschap van Trapper, of voluit the Trapper Drone Orchestra, trakteert de nietsvermoedende Haagse Pop Week bezoeker op onheilspellende soundscapes waarbij een breed scala aan...
2 tags
Watch
Trapper live @ Studio Loos, June 30th 2012.
1 tag
2 tags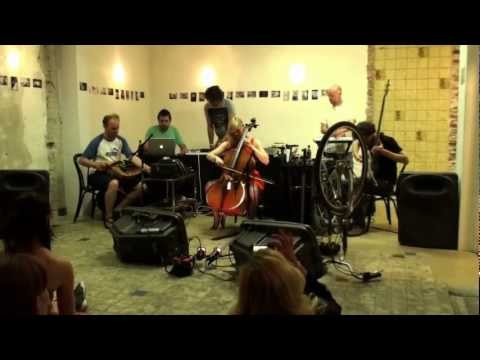 1 tag
1 tag
1 tag
11 tags
Vote for us! Art Rocks Boijmans Muziekcompetitie
Waxing Arcs, de sculptuur van Richard Serra, heeft een onverbiddelijke, zware aanwezigheid in het museum Boijmans. De gekromde platen suggereren, naast oneindigheid, ook een groot gevaar. Trapper Drone Orchestra maakte een speciale compositie voor dit kunstwerk, kijk en luister zelf én stem! www.artrocks.nl
We hebben een Facebook pagina. Tijd om te liken! →
4 tags
Watch
The lead singer.
3 tags
1 tag
Watch
First TRAPPER rehearsel with Jan, Thijs and Wouter @ruimtevaart
3 tags
10 tags
TRAPPER on the radio
Deze vrijdag is TRAPPER Drone Orchestra live te horen tussen 20.00-22.00 uur bij het radioprogramma Stork on Air, een samenwerking tussen het Haags Pop Centrum en Omroep West.  Volg hier de live webcam van WestPop Online. Het programma is sinds kort ook online op DenHaagFM te beluisteren en via de ether op 92.0 FM.
13 tags
4 tags
2 tags
Watch
Jimmi plays a tune in the break.
4 tags
Watch
Rehearsel @hpc
3 tags
Watch
Installing the PA
6 tags
5 tags